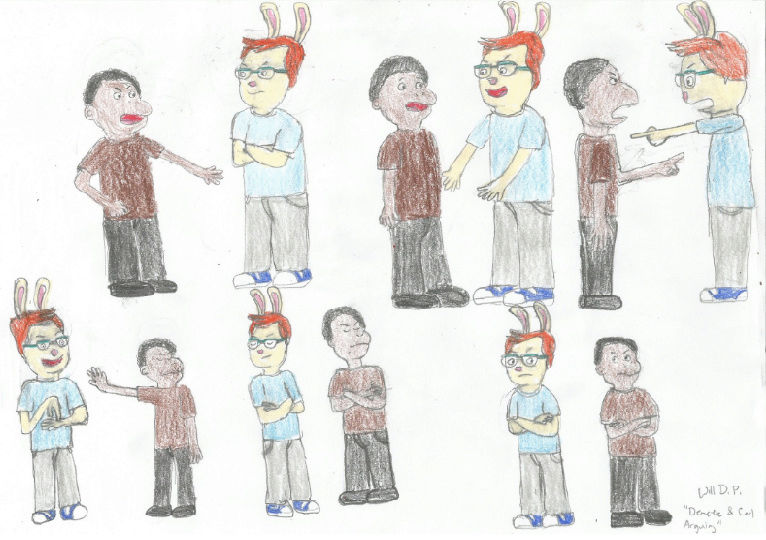 UH OH look what's happening in this picture, or in these drawings! Carl and Demetre are having some arguments with each other. I don't have them arguing with each other about something in particular, you make up what they could be arguing about. But although Demetre and Carl are best friends, at least Carl is Demetre's best friend and Demetre is Carl's second best friend to George Lundgren, who introduced the two to each other, sometimes even Demetre and Carl have their differences like everyone else, like Francine and Muffy, and sometimes even Arthur and Buster.
To see more about this:
http://willm3luvtrains.deviantart.com/art/Demetre-and-Carl-Argue-647887145
However...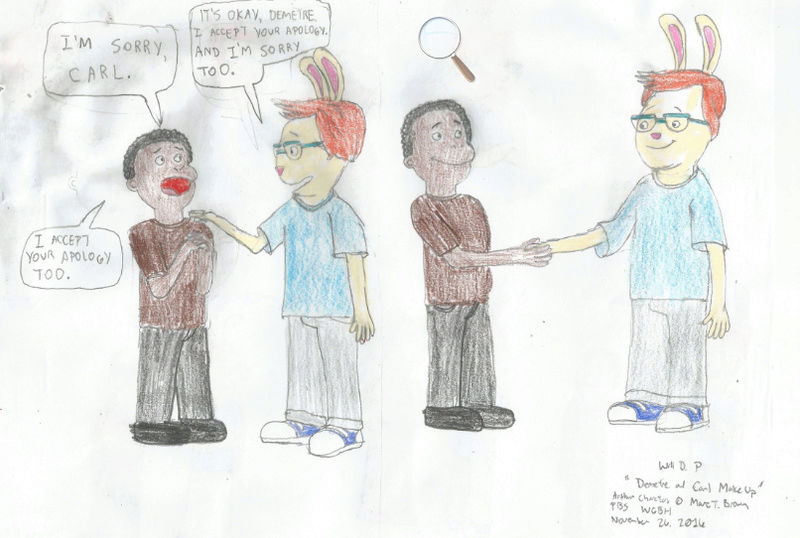 Demetre and Carl do settle their differences and make up, although they will have more arguments in the future, that's the thing about being imperfect, we all argue with each other, which is unfortunate. But thankfully, it takes mature people to settle differences. And I decided instead of ending with Carl and Demetre arguing with each other, I'd have them apologize to each other and make up. Sometimes it takes long for Demetre and Carl to make up, can even seem hopeless at times, but eventually they do make their way back to each other, and I prefer Demetre plus Carl, not Demetre minus Carl! These two were made for each other (AS FAR AS
BEST FRIENDS
GO!)
Gotta say, Carl is a bigger, tougher, and stronger man than Demetre, and Carl is older, or supposed to be, Demetre is smaller and daintier and Carl could clobber Demetre if he wanted to, but he wouldn't! Carl could beat Demetre at arm-wrestling too and Demetre almost always loses that game!
To learn more:
http://willm3luvtrains.deviantart.com/art/Demetre-and-Carl-Make-Up-647986156
I have other artwork of Demetre and Carl but I'm staying on topic with this.



Posts

: 77


Join date

: 2015-10-18


Age

: 33


Location

: Tucson




---
Permissions in this forum:
You
cannot
reply to topics in this forum